Quick Link
Find Products
Contact us
-International Division
Tel: +86 180 3806 0406
Skype: rison.prototype
Mail: [email protected]
News
Home

> News > Benefits from stainless sheet metal dustbin prototype
Benefits from stainless sheet metal dustbin prototype
With the development of technology, stainless steel products have been widely used due to its practical, durable, aesthetic performance. Stainless steel not only has good moistureproof, fire resistance, corrosion resistance but also easy to clean and can last longer.
Dustbin has to contain a wide variety of waste every day which is surrounded by bacteria, viruses, fungi. Some dustbins on the market made from unknown plastic materials may be involved with some radioactive material or harmful substances. But stainless sheet metal dustbin do not have these problems and easy to clean.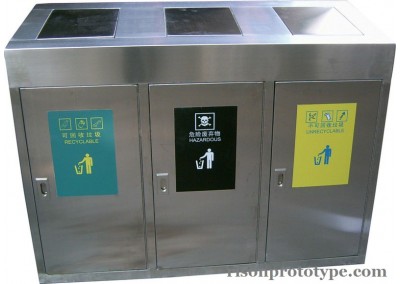 This stainless sheet metal dustbin prototype can be used for urban management systems, sanitation systems, property management systems, residential, factories, restaurants, urban roads, squares, business units, gardens, parks, schools, hospitals, railway stations, docks, landscape tourist areas and other public places.
We, at Rison Prototype, manufacture and supply a huge range of sheet metal prototyping as per the given specifications by you. Our prototyping components are perfect to use as sample to test before the final production of the products. We provide sheet metal prototyping as sheet metal components, housing for air, stainless metal dustbin, metal box, case, cabinets etc. All of our prototyping components are manufactured from excellent quality metal alloy with set industrial norms.
You are welcome to contact us! Skype: rison.prototype