Quick Link
Find Products
Contact us
-International Division
Tel: +86 180 3806 0406
Skype: rison.prototype
Mail: [email protected]
Service
Home

> Service > Low-volume Production
Low-volume Production
As products are upgraded rapidly, people attach more and more importance to personalization. Thus, the product design industry turns to the mode of small-lot and diversified production. Many young companies and design studio know that the market is unknown, so they must reduce their risks through cutting cost of production as far as possible. However, these large OEM suppliers are unwilling to adopt such a way of cooperation (they prefer mass and long-term production). Thus, the market demand for small-lot production emerges at the right moment.

Rison prototype focus on projects which require not exceed 3000pcs, providing target customers with high-quality, low-cost, low-volume production services via 3 methods: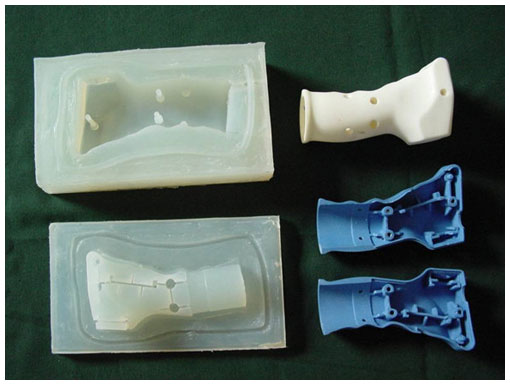 I. Vacuum Casting(<100pcs) is widely used process in rapid prototyping industry today, typically used for low volume productio of functional prototypes out of broad range of polyurethane resins available, the process usually contains 4 steps:
1. Using CNC or SLA to make the master model(target part) with final finsh;
2. Place the mater model into the box which will be filled with liquid silicone;
3. After silicone solidify, split the silicone block along the parting line, get out the master model then a simple mold formed;
4. required materil liquid is introduced into moulds at low pressure, after cooling the vacuum casting part is finished, we can produce 20-50pcs prototype in this way.
Rison prototype equiped 2 sets of large vacuum equipments with a biggest casting volume up to 1.8m*1.2m*0.5m, most of material Rison used is imported ABS, PP, PC, PU, with closely physical properties to injection plastic material, vacuum casting prototypes could be colored like CNC machined prototypes.
Cost effective ★★★★★
Time effective ★★★★★
Precision grade ★★★
Recommendation ★★★★★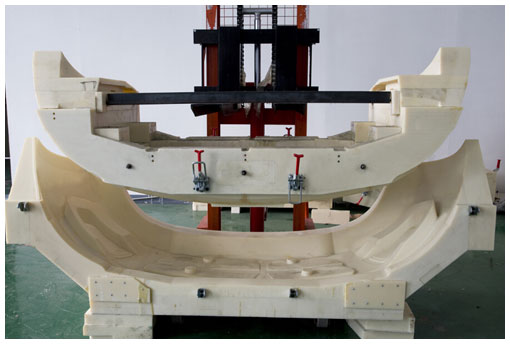 II. Reaction Injection Molding(100-1000pcs) are usually applied to produce large and complex auto interior, bumper etc rigid foam part, RIM is a cost-effective production method comparing with injection molding, but as RIM is very critical to molding condition, so it require producer must have rich knowledge in material and experiences to complete.
Rison prototype is one of few companies which have strong capability of master RIM(reaction injection molding)technology to produce rapid prototype and low volume products. RIM is a low volume production method that required a quantity of 100 to 1000 pcs, with the same process with injection molding, available material in Rison prototype include polymers, epoxy resin, PA6, markon(unsaturated polyester).
Cost effective ★★★
Time effective ★★★
Precision grade ★★★★
Recommendation ★★★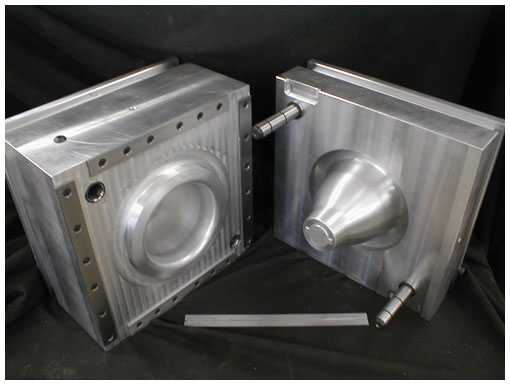 III. Aluminum mold(200-3000 pcs) is one of rapid tooling, with good conducting property and easy to process, Aluminum alloy began to be wildly used in injection mold recently years, the cost is only 1/3 of steel injection mold, but it could run about 2000pcs or more, meanwhile the processing and operating methld are quite different with traditional injection molds. Aluminum mold is suitable for huge plastic parts but in low-volume reqiurement, such as large medical equipment case. Rapid tooling is a try before mass run, it could tell customers where need to improve and what need to pay more attention during production.
Rison's rapid tooling service is powered by Rison Mould, which owned 30 mold making engineers 8 units other injection machines(including 2 new introduced double injection machines), providing rapid tooling making, rapid double injection tools, high quality mold, low volume production and mass production there.
Cost effective ★★★
Time effective ★★★
Precision grade ★★★★★
Recommendation ★★★★