Quick Link
Find Products
Contact us
-International Division
Tel: +86 180 3806 0406
Skype: rison.prototype
Mail: [email protected]
News
Home

> News > Is FDM a rapid prototyping?
Is FDM a rapid prototyping?
Rapid prototyping, a cornerstone of modern product development and design, plays a pivotal role in transforming innovative concepts into tangible reality. Among the array of techniques available, Fused Deposition Modeling (FDM) stands out as a reliable and widely adopted method.
The Need for Speed in Rapid Prototyping
In the fast-paced world of innovation, speed is a non-negotiable asset.
Rapid prototyping
is the linchpin, allowing design and engineering professionals to swiftly iterate and validate their ideas. FDM, as a 3D printing technology, has garnered attention for its ability to meet these demands.
Fused Deposition Modeling, commonly known as FDM, is a 3D printing process that operates by extruding thermoplastic materials, such as ABS or PLA, through a heated nozzle. The material is deposited layer by layer, gradually building the desired object. How does FDM fare in the world of rapid prototyping?
Pros of FDM in Rapid Prototyping:
Speed: FDM offers rapid iteration, allowing designers and engineers to produce prototypes swiftly, reducing time-to-market.
Cost-Effective: Its cost-effectiveness makes FDM an accessible option for creating physical models, even for smaller projects and businesses.
Complex Geometries: FDM excels at constructing intricate, complex geometries with ease, providing flexibility in design.
Materials Variety: FDM supports a wide range of materials, from standard thermoplastics to advanced composites, enhancing the versatility of prototypes.
Functional Prototypes: It's ideal for creating functional prototypes that can undergo real-world testing, ensuring that designs meet practical requirements.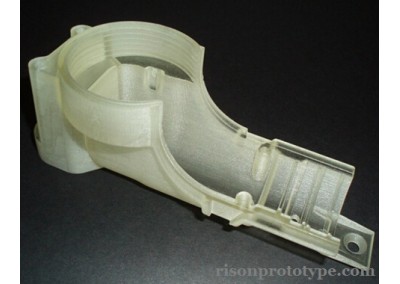 Potential Limitations of FDM in Rapid Prototyping:
Resolution: While FDM is recognized for its speed, its resolution may not match that of some other 3D printing techniques, making it less suitable for extremely detailed models.
Visible Layer Lines: FDM-produced prototypes often display visible layer lines, which may necessitate post-processing for a smoother finish.
The Role of FDM in Rapid Prototyping
In the landscape of rapid prototyping, where efficiency is paramount and innovation is the driving force, FDM stands as a robust and valuable tool. Its speed, cost-effectiveness, and adaptability have cemented its status as a go-to choice for many professionals.
FDM may not be without its nuances, but in the grand scheme of things, it has proven to be an ally to those who demand swift and efficient prototyping. It empowers design and engineering teams to translate concepts into reality with remarkable speed and precision.