Quick Link
Find Products
Contact us
-International Division
Tel: +86 180 3806 0406
Skype: rison.prototype
Mail: [email protected]
News
Home

> News > Light therapy medical device prototyping
Light therapy medical device prototyping
This medical device prototyping is made from ABS, PC, and rubber. It is an at-home light-based therapy device for those who suffer from skin conditions such as psoriasis and eczema. The medical device prototyping consists of a console, includes a calibration port and a touch screen control panel, and an ergonomic handpiece. The medical device prototyping is ageing resistance. Its impact resistance is strong, fit degree is high which is easy for handling. The light therapy medical device decreases inflammation and the rate of cell turn-over, providing cosmetic and itching relief. With the included fiber optic brush attachment, the UV light source can be brushed through the hair areas, reaching the skin.
Benefits oflight therapy medical device prototyping:
1. Treats itchy, scaly, psoriatic plaques and vitilago patches
2. Two interchangeable beam delivery attachments deliver targeted therapy
3. Proprietary beam delivery systems enable precise, fast, and safe treatment
4. Enables patients to privately and personally treat small areas and scalp with ultraviolet B light
5. Delivers a precise UVB dose directly to psoriasis plaques without broad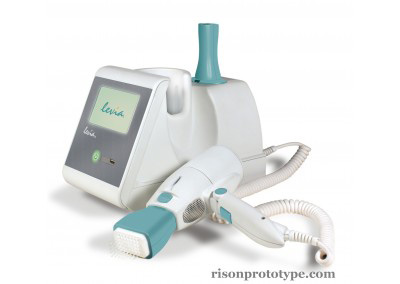 If you need medical device prototyping for clinical trials only, we can use CNC to complete. If you need low-volume custom medical device prototyping. I would like to recommend RIM technology to process. You are welcome to contact us at any time!
E-mail: [email protected]
Engineering: [email protected]
Tel: +86 180 3806 0406
Fax: +86 755 2983 0492
Skype: rison.prototype