Quick Link
Find Products
Contact us
-International Division
Tel: +86 180 3806 0406
Skype: rison.prototype
Mail: [email protected]
News
Home

> News > 3D Printing technologies types and how it works
3D Printing technologies types and how it works
Many friend know about 3D printing technologies, but not everyone know how each 3DP technology works, now we will give some detailed introduction about it.
There are 2 definition of 3D printing. In narrow sense refers to the "manufacturing technology base on powder that developed by MIT". Broadly refers to all of the Additive Manufacturing technologies. According to Andreas Gebhardt 's book, we could know there are many additive manufacturing technologies, MIT is just one kind of 3D printing.
1. Utilize high Polymer polymerization as basic principles: laser three-dimensional Printing (Stereolithography, SLA, represented by famous Objet and Formlabs, Rison prototype's 3D system printer is SLA technology too), Polymer Printing technology (Polymer Printing), Polymer injection technology (Polymer Jetting), Digital light Processing technology (Digital Lighting Processing), Micro stereoscopic Printing (Micro Stereolithography).
2. Utilize Sintering and Melting as basic principle: Selective Laser Sintering technology (Selective Laser Sintering, SLS, 3D printing industry leader in 3D System, EOS is another outstanding representative), Selective Laser Melting technology (Selective Laser Melting, SLM), Electron Beam Melting technology (Electron Beam Melting, EBM).
3.Utilize powder+adhesive as basic principle: 3D Printing technology (Three Dimensional Printing, 3DP, MIT invented in 90, Zcorp (has been acquired by 3D Systems), voxeljet is the outstanding representative)
4. Fused Deposition modelling technique (Fused Deposition Modeling, FDM, famous represents RepRap project, MakerBot and Stratasys company)
5.Laminated Manufacturing technology (Layer Laminate Manufacturing, LLM)
6. Aerosol printing technology (Aerosolprinting)
7. Biological drawing technique (Bioplotter)
8.metal 3d printing rapid prototyping(DMLS)
Specific principle of each additive manufacturing technology is different, but the goal is to find a way to according to the computer data to create the model layer by layer under CAM control, finally make the whole three-dimensional model. Main characteristic is that finished product structure complexity is almost unlimited.At present is mainly used in aerospace industry, automobile industry, professional design, product design and architectural design model), surgery (tailored correctional teeth, dentures, hearing AIDS), and so on.
Here is a brief introduction of the most common FDM, SLA, SLS, and 3DP.
1.FDM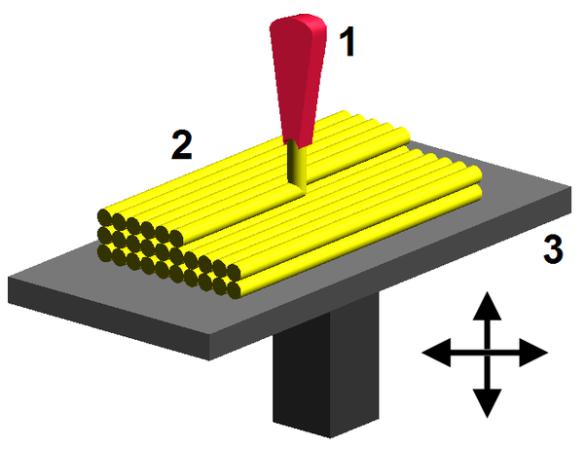 Source:wikipedia
FDM(Fused Deposition Modelling). Heating the printer head, soften plastic and inject it from sprayer, then add material layer by layer under CAM program。
2.SLA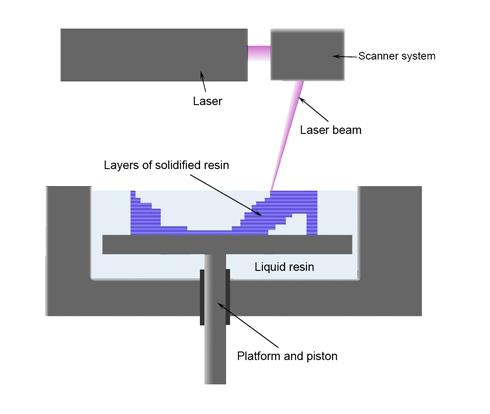 Source:wikipedia
SLA(Stereolithography). Using the laser selectively let the liquid photosensitive resin polymerization to harden, and modelling. SLA has two kinds, one kind is represented by the Objet, printing from the bottom up. Another is represented Formlabs, printing from top.
3.SLS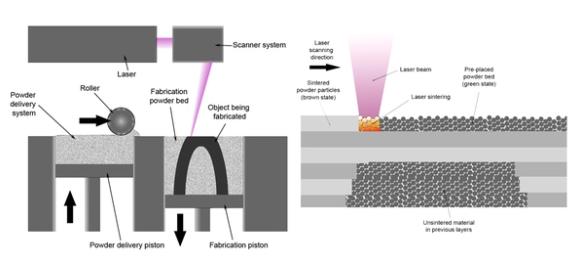 Source:wikipedia
SLS(Selective Laser Sintering).Similar with SLA, SLS use laser too, but the material SLS used is not liquid photosensitive resin, it's powder. The laser could heat powders and melt powder units selected then combination together.
4.3DP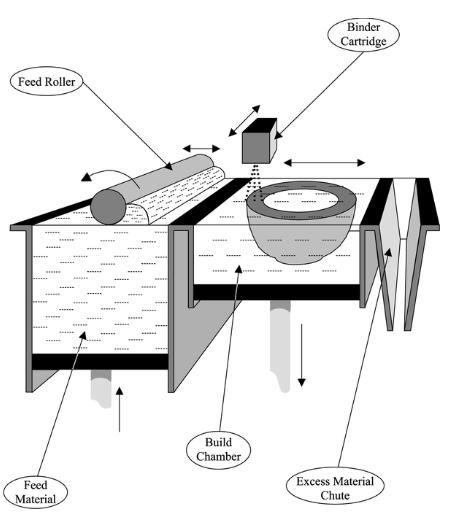 3DP(Three Dimensional Printing). This is the real 3D printer. As 3DP is very similar with graphic print, even use the same print head. The technology use powder as well,like SLS. Classic 3DP printer has 2 tanks(see above picture), the left one is powder tank and the right one is build chamber, when it print, feed roller bring the power from powder tank to build chamber, cover a 0.1mm thick powder layer, then computer spray the glues selectively.