Quick Link
Find Products
Contact us
-International Division
Tel: +86 180 3806 0406
Skype: rison.prototype
Mail: [email protected]
News
Home

> News > Quotes of China Rapid Prototyping Parts In August 2017
Quotes of China Rapid Prototyping Parts In August 2017
Here are three quotes of
China rapid prototyping
parts from clients. They need ABS, stainless steel, PMMA rapid prototypes. What rapid prototypes do you need?
1. Quantity: 10
Material: ABS
Color: Nuetral
Quote: Hello, I am currently working on a project that requires a part to be injection molded, and am interested in seeing if we can create a working relationship. The goal is to start with a low level prototype run, with the intention of an initial production run of 10,000 to follow. I will list my general requirements below to better assist you in deciding if your services fit the needs for this part.
Part description: Fan blade that will be mounted to DC motor
Overall dimensions: Blade to blade diameter of 15 mm, height of 5 mm
Material used: A plastic that can hold up to low fatigue stress of rotation at approximately 15000 rpm. Testing with ABS was a success.
Quantity of parts: 10, 100, 1000 and 10000.
What is the lead time for each quantity? What tooling will be used? Please note that each of these will be different orders, so each mold does not need to stand up to 10,000 parts, if that changes the tooling. Thank you for your time, and hope to continue this conversation soon!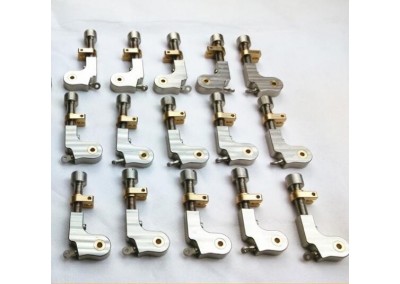 2. Quantity: 100
Material: Stainless steel
Finish: Natural
Color: Natural
Quote: OT Tube part can be made in 2 halves & welded together if this is cheaper. I will send an assembly drawing for the prototype to your email to supplement the parts files, let me know if you have any suggestions to minimize cost.
3. Quantity: 100
Material: PMMA
Finish: Mirror Polished
Color: Translucent Clear
Quote: Hi there I need a quote to prototype one of the attached product in a translucent material with (Mirror polishing) on SLA. Maybe a MABS if you have it or a PMMA/PC. The part called "rim" is to be made with a Grey ABS as it will end up being a metal part. The product is a champagne bucket with glass holders and needs to have a glossy polished finish. Please don't hesitate to contact me for more info.I look forward to hearing from you. Kind regards