Quick Link
Find Products
Contact us
-International Division
Tel: +86 180 3806 0406
Skype: rison.prototype
Mail: [email protected]
News
Home

> News > Sheet Metal Bending Prototyping Process
Sheet Metal Bending Prototyping Process
Sheet metal bending is a process where sheet metal is bent to an angle using, typically a V shaped punch and die. It is a common and vital process in prototyping manufacturing.
The metal sheet is placed between the punch and die which presses down on the sheet. This method of bending provides a low cost method to produce 3D shapes from 2D sheets.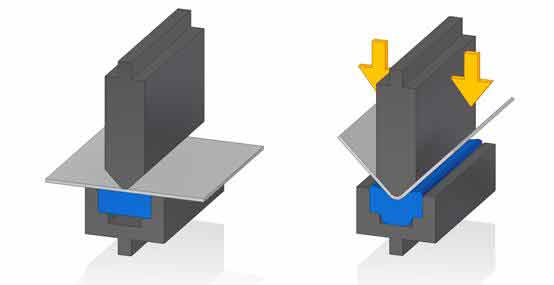 It is suitable for processing most ductile metals and primarily for sheet metal prototyping designs with one or more bends. Likecams, chassis,brackets, enclosures. There is generally no special tooling required, apart from complex designs and special bends.
Similar to other sheet metal prototyping processes, bending changes the shape of the work piece, while the volume of material will remain the same. In some cases,sheet metal bending may produce a small change in sheet thickness. But for most operations, sheet metal bending will produce essentially no change in the thickness of the sheet metal. In addition to creating a desired geometric form, bending is also used to impart strength and stiffness to sheet metal to change a part's moment of inertia for delicate appearance and to eliminate sharp edges.