Quick Link
Find Products
Contact us
-International Division
Tel: +86 180 3806 0406
Skype: rison.prototype
Mail: [email protected]
News
Home

> News > What material is rapid prototyping?
What material is rapid prototyping?
Rapid prototyping, also known as additive manufacturing or 3D printing, involves the creation of physical objects by adding material layer by layer. Various materials can be used in rapid prototyping, depending on the specific technology and the desired characteristics of the prototype. Some of the commonly used materials in
rapid prototyping
include:
Plastics:
Many 3D printers use thermoplastic materials, such as ABS (Acrylonitrile Butadiene Styrene) and PLA (Polylactic Acid), which are melted and extruded to create layers.
Resins:
Stereolithography (SLA) and digital light processing (DLP) 3D printers use liquid photopolymer resins that are cured by UV light to form solid layers.
Metals: Some advanced 3D printing technologies, like selective laser melting (SLM) and direct metal laser sintering (DMLS), can create prototypes from various metals, including aluminum, titanium, and stainless steel.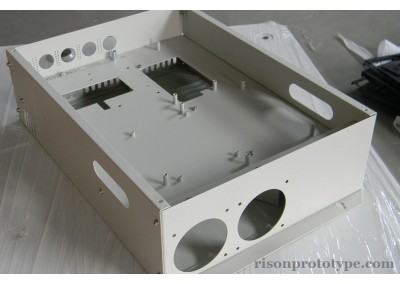 Ceramics:
Ceramic materials can be used for certain applications, like creating intricate, heat-resistant prototypes.
Composites:
Some 3D printers can work with composite materials that combine different elements, such as carbon fiber-reinforced plastics, to achieve specific properties.
Paper and Powder:
Binder jetting technology uses a binding agent to create layers of powder material (e.g., gypsum, sand, or metal) to build prototypes.
Bio-materials:
In the field of bioprinting, living cells and bio-compatible materials are used to create biological tissues and structures for medical and research purposes.
Wax:
Wax can be used in some 3D printing processes, like lost-wax casting for jewelry and metal component fabrication.
The choice of material depends on factors like the intended use of the prototype, the desired properties (e.g., strength, flexibility, heat resistance), and the capabilities of the 3D printing technology being used. Different materials offer various advantages and limitations, making it essential to select the appropriate material for the specific application and requirements.